A Homeless Management Information System (HMIS) is a local information technology system used to collect client-level data and data on the provision of housing and services to individuals and families experiencing homelessness.  HMIS allows the aggregation of client-level data across service agencies to generate an unduplicated count of clients served, understand patterns of service use and measure the effectiveness of homeless programs.
HMIS was developed from a mandate by congress requiring communities to collect data in order to receive funds from the Department of Housing and Urban Development (HUD) and other funders.  Kings United Way has served as the lead administrator of the Kings Tulare HMIS since 2007.  HMIS has helped us assess the depth of homelessness in our region and provide a more accurate picture of the homeless community in Kings and Tulare counties. 
Participating in HMIS represents a strategic advantage for service providers.  The HMIS software used, which is locally administered, is called ClientTrack.  ClientTrack allows multi-level client data sharing between agencies and is a full case management tool.  It prevents service duplication through our sharing model while limiting access to sensitive information.  The software provides a full range of reporting capabilities and has the ability to customize any workflow.  ClientTrack is web based and can be accessed from any computer with internet access. 
Providers that use HMIS are in a better position to apply for funding opportunities.  Programs that receive other sources of funding are not required to participate in HMIS, but are strongly encouraged to do so to contribute to a better understating of homelessness in our communities.  
Current participating Agencies
Adventist Health
Anthem/Blue Cross
Aria Community Health Center
Central California Family Crisis Center
Champions Recovery Alternative Programs
City of Tulare
Clean the World
CSET
EXODUS Recovery Inc.
Family Healthcare Network
Family Services of Tulare County
HealthNet
Housing Authority of Kings County
Housing Authority of Tulare County
Kaweah Delta Health Care
Kings Community Action Organization
Kings County Behavioral Health
Kings County Human Services Agency
Kings Gospel Mission
Kings Tulare Homeless Alliance
Kings View Counseling Services
Libertana
Lighthouse Rescue Mission
Open Gate Ministries
Pacific Clinics
RH Community Builders
Salt + Light Works
Salvation Army
Schrank's Clubhouse
The Warehouse
Tulare County HHSA
Tule River Indian Housing Authority
TURN Behavioral Health Services
Turning Point of Central California, Inc.
VA Central California Health Care System
Visalia Homeless Center
Visalia Rescue Mission
WestCare
The Kings/Tulare HMIS is currently comprised of 38 organizations and 86 programs within both counties
Emergency Shelter (15%)
Homeless Prevention (2%)
Permanent Supportive Housing (29%)
Rapid Rehousing (9%)
Services Only (16%)
Street Outreach (9%)
Transitional Housing (17%)
Coordinated Entry (2%)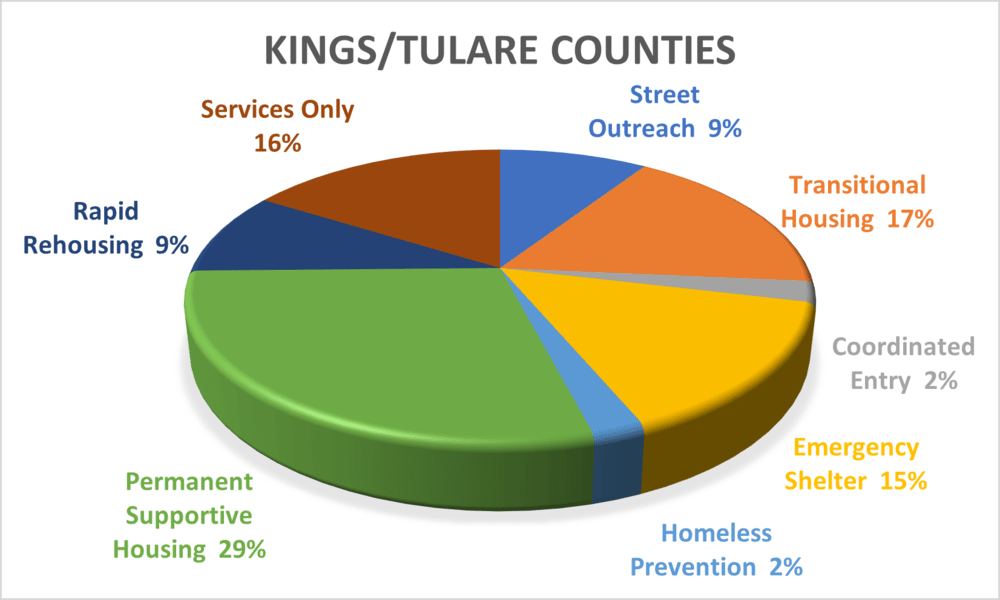 How HMIS Staff can help...
Monthly Snapshots
Program data is reviewed each month for accuracy and completeness
Technical Support
HMIS support is available Mon. - Fri. 8 am to 5 pm 
Site Visits
An HMIS representative reviews and ensures agency compliance annually
Performance Measure
HMIS staff provide reports and monthly updates at CoC membership meetings
HMIS Training
Staff is available for one-on-one or group training.  Training is also available via phone and webinars 
Software Customization
Staff can assist with workflow customization
Reporting
HMIS staff can assist with most reporting needs for funders (e.g. APR's)